Tag Archives:
website design
By: Chris Foss, Published August 31, 2014
Over the past 18 years, I have written thousands of website proposals – for design, development, hosting, and/or marketing (SEO) – for companies and organizations of every size and (just about) every industry. Some people want a basic brochure website, others might want full online marketing strategies, while others ask for things that are, literally, impossible to develop. Everyone, however, always wants to know:
"How much will this website cost?"
And after 18 years, my answer is still the same. Websites can cost anywhere from free to more than $100 million, it all depends on what you want to actually achieve online.
Let's discuss the design and build first
To start, ask yourself a few questions.
1. Are you looking to sell products online or include any ecommerce?
2. Do you require backend integration with any internal databases or systems (CRM, AMS, Inventory/warehouse system, accounting)?
3. Is your website primarily a marketing and informational site?
4. How tech savvy is your staff?
5. How established is your brand (i.e. will your web design be creating everything from scratch or do you have established brand guidelines)?
Finally, one of the toughest questions of all: how valuable is this website to your business or organization? If your business is a local Burger King franchise, then a website, while important, is not overly valuable compared to the rest of your marketing and operational needs. However, if your business is an online dating service, where the website IS the business, then obviously the design and build of the website will require much more attention and ongoing development.
Ok, so how much should I budget for my website?
Now that you've asked yourself some important questions, let's get down to at least some budget ranges.
Cost of Basic Websites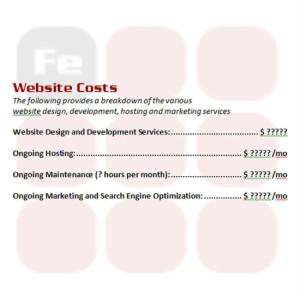 For many small businesses, a basic website is a great place to start. These types of websites can range from FREE (but be careful what you sign up for!) to around $5,000. A basic website is typically 3-10 pages and really just focuses on providing basic information about the business – who you are, what you offer, and how to contact you. A website company will typically stylize an existing theme or template and work with clients to build out these sites for $4,000-$5,000.
Cost of Custom Websites
I truly believe that all businesses should eventually have a custom or advanced website. Basic, template websites are fantastic for businesses starting out with a limited budget, but for a website to truly work for you and generate an ROI, you should consider a Web firm to build you a custom design website. After all, look at any successful website that you visit on a regular basis. Are any of them templates? No. And there is a good reason for that.
A firm will work with you to build a custom design website, and the process should start with in-depth discussions about your target audiences, corporate culture, online business goals, and behavior/conversion goals. A custom site should be developed to successfully address all of these points in order to establish a strong, effective website for your business or organization. Custom website designs typically fall anywhere from $9,000 – $20,000; however, depending on the size and requirements of your website, the cost can certainly fall above this range.
Cost of Advanced Websites
Advanced websites are really any project that goes beyond a marketing/informational website. These are websites that include ecommerce, highly interactive features, backend integration, and custom programming. Projects like these are spec'd out on a case-by-case basis and can cost anywhere from $20,000 to several million dollars.
Marketing Costs
As you can imagine, marketing costs can also vary greatly simply because there are a wide range of marketing services that we can apply to any website. Typical engagements with a firm include SEO services, social media campaigns, email marketing efforts, and consulting with online advertising. Marketing costs are usually centered around ongoing efforts and measurable marketing goals that we establish directly with you. Based on these efforts and deliverables, marketing costs typically range from $500/mo to $5,000/mo, again, depending on how involved, and how aggressive, you want your web firm to be.
Additional Costs
As you finalize your budget, keep in mind some of these additional costs as well.
1. Purchasing a domain name ($10-$20/year)
2. Hosting (usually $20-$100/mo depending on hosting needs)
3. Ongoing Maintenance – Don't forget about this one. Despite how perfect the website might be at launch, within a few months, you can already start making upgrades. Platforms and plugins need upgraded and new functionality/new designs can always improve your site. You should plan to evolve your website on a regular basis, and this is usually provided on either an "as needed" basis or through a maintenance retainer.
4. Security Certificate for forms with private information or ecommerce ($200/yr)
5. Stock Photography ($20-$100 per image) or Professional Photography if needed
6. Video production if needed
Read more at https://www.business2community.com/online-marketing/much-website-cost-0987537#SdyRbhIFQFhkk4Vk.99